Did you lose your chance to get a Hellephant? We've got solutions.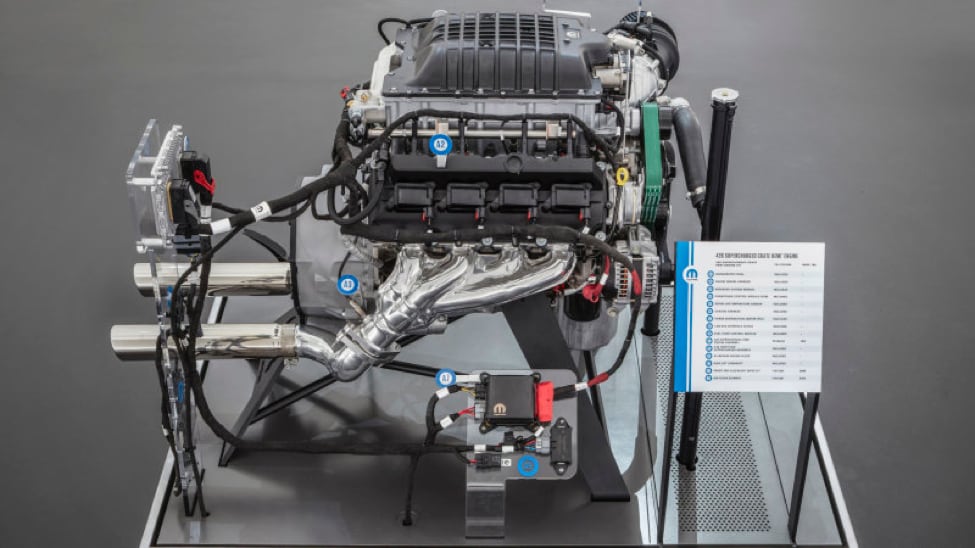 It's hard to believe, but the Hellephant is gone. Poof. Just like that. The 1,000 horsepower supercharged crate engine with a $30K price tag was gobbled up by hungry speed demons in a mere 48 hours after being available for sale.
What's a gearhead to do when they need ridiculous horsepower now? Worry not. You can still get some amazing crate engines from the Big 3. Here's a list of some crate engines that still pack some serious punch.
1.) Mopar 6.2L Hellcrate. Mopar fan? The 707 hosepower rated Hellcrate is the same engine found in the Hellcat and Trackhawk. Yes, it's not 1,000 horsepower, but it's just a few dollars shy of being $10,000 less than the Hellephant at $20,020.
2.) The Ford Aluminator 5.2XS. Ford's got an engine built on the Shelby GT350 platform that delivers 580 horsepower. At $19,995, it's not the best bang for the buck on this list, but if you're a Ford fan, this just might fit the bill.
3.) GM's LS7 block. GM's been making this crate engine for a long time, so they know what they're doing and as a result the LS7 is known for its reliability. In comparison to other crate engines, it's affordable, too, coming in at a touch over $13,000. The LS7 serves up 505 horsepower.
4.) GM's LS9 engine. This engine is available in limited supply, so if you're interested, it would be in your best interest to get one sooner than later. The LS9 is a super-charged, 6.2L beast cranking out 638 horsepower. Sure, this engine doesn't have the amount of horsepower the Hellcrate does, but it's almost $2000 cheaper. Plus it comes with a dry sump system, which lets the oil live in a remote canister that gets pumped into the engine.
What do you say? Are you ready to swap out the engine in your ride for one of these mighty machines? Every single parts department in the SVG Motors Auto Group can help you get one. Our SVG Chrysler Dodge Jeep Ram locations can order the Hellcrate, and our SVG Chevrolet locations can order the GM LS engines. You can reach either parts department by calling 937-548-7643 and asking for either Mopar parts or GM parts.