According to a recent Cox Automotive survey of in-market vehicle shoppers, technology is a huge factor in which vehicle consumers ultimately choose. Technology is so important to buyers like you that survey respondents said it means more to them than what the vehicle looks like!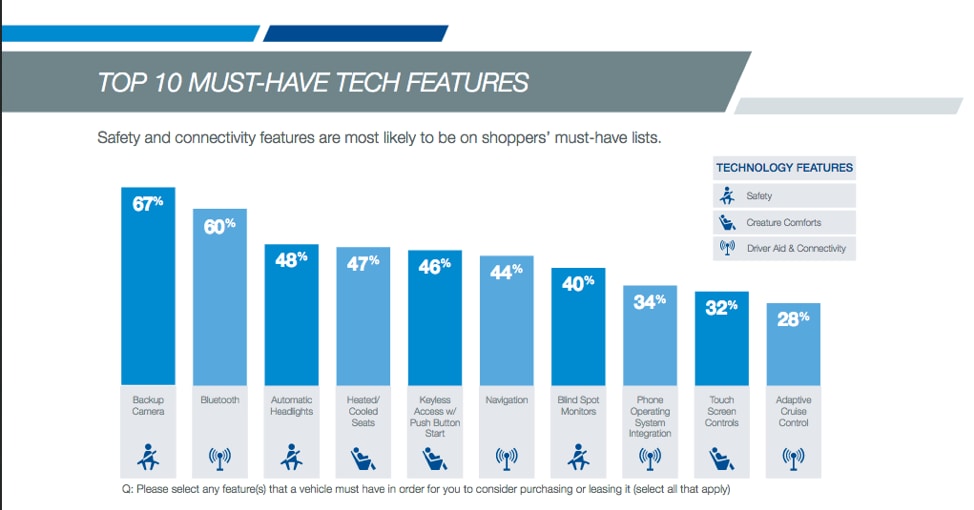 As you can see from the chart above, the technology vehicle shoppers are most interested in are backup cameras. We're curious, do you value technology over looks? If so, we've created some links below to help you navigate through our inventory based on available technology. Check it out!
1.) Vehicles with backup cameras can be found here.
2.) Vehicles with bluetooth capability can be found here.

3.) Vehicles with automatic headlights are in this list.
4.) An SVG staff favorite, vehicles with heated/cooled seats, are listed here.
5.) For push button start vehicles, click here.
6.) Looking for vehicles with navigation? Click here.
7.) Driver assist technology (such as blind spot monitoring) can be found here.
8.) Smart phone integration vehicles are here.
9.) Infotainment systems with touch screen controls are here.
10.) Vehicles featuring adaptive cruise control are here.
Looking for something special you can't find in our lists? Feel free to reach out to our sales staff. They'll be happy to help you find the vehicle of your dreams AND make sure it fits into your budget!