Jeep Culture – it's an Un-ignorable Phenomenon
No doubt you've seen Jeeps traveling down the highway with tire covers that say "It's a Jeep Thing, You Wouldn't Understand". Maybe you've seen two Jeeps cross paths and their drivers wave to one another and wondered if they knew each other. The truth is, Jeep culture exists and we'll try to explain so you do understand.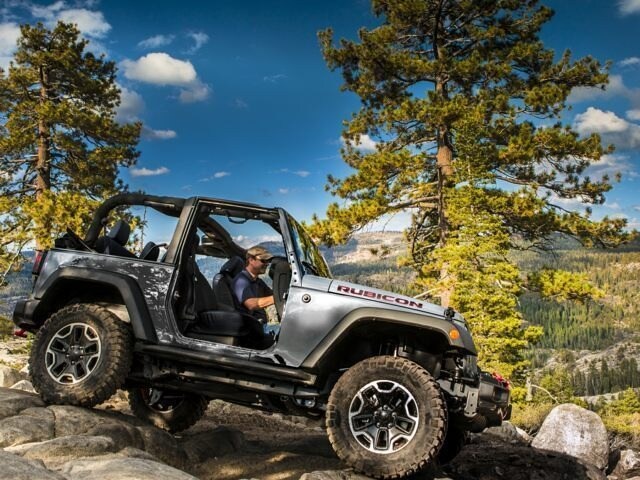 History
Jeep owners have incredible loyalty, especially the owners of Jeep Wranglers. The Jeep brand currently produces several models of vehicles – Wrangler, Cherokee, Grand Cherokee, Renegade, Compass and Gladiator. However, the most hardcore of those living the Jeep lifestyle will say that the Wrangler is the model that truly represents the "Jeep" name. The reason for this is due to the fact that the Willys-Overland company first gained notoriety in WWII for the vehicle they produced for the armed forces, which was called the Willys MB, which was also known as a Jeep. Soldiers loved that rugged vehicle that could carry them through the depths of jungles, and through the unimaginable terrain of war-torn lands. The MB became an icon of freedom, victory, capability and adventure. So popular and beloved were those capable vehicles that the Willies-Overland company began producing a civilian version in 1945 -- the Jeep CJ-2A. When soldiers returned home, they purchased them for every day use. Thus, America began a love affair with the Jeep, based on its stellar wartime performance.
While the Jeep brand name has been owned by multiple companies since it was first registered as a trademark in the early 1950's, Jeep vehicles have stayed true to their original roots by being tough, reliable 4x4 vehicles capable of tackling the harshest terrains.
There have been a myriad of different styles of Jeep brand vehicles since the 1940's, so why then do Jeep enthusiasts consider the Wrangler as the iconic representation of the Jeep name? That's simple. The Wrangler is the model that has kept the main styling cues and rugged performance of the original Willys MB used in WWII.
The Jeep Wave
You've seen drivers of Wranglers wave at each other as they pass; this is the Jeep wave. Legend has it that the Jeep wave began in the late 1940's. It is speculated that people who purchased and drove Jeeps had served in the Armed Forces, and seeing another Jeep on the road let drivers know they were passing by a brother-in-arms. The wave was a sign of respect acknowledging another service member – or so the story goes. Another similar theory posits that soldiers who returned home and bought Jeeps were so conditioned to saluting other service members when passing each other on the battlefield in Jeeps, that the habit of raising your hand to a fellow Jeep driver stuck. Regardless of how the tradition began, the Jeep wave has continued to this day, although it symbolizes acknowledgement of a fellow enthusiast rather than a soldier-to-soldier salute.
Fellowship in Lifestyle
What makes the Jeep Wrangler culture so strong is the people that drive them. Wrangler ownership grants you membership to an exclusive, off-roading fraternity of like-minded adventurers. The vast majority of people who own Wranglers buy them for their 4x4 capability – and they like to put that capability to the test. Thousands of Wrangler owners converge at Jeep events to share stories, do trail-rides, and rock climb. Attendance at these events builds bonds.
Pride in Your Ride
One of the most endearing qualities of the Jeep Wrangler is the innumerable ways it can be modified. There are literally thousands and thousands of modifications one can do to a Wrangler to make it uniquely their own. This builds a sense of ownership pride, but also contributes to the sense of overall community since fellow Jeep owners love to see how each has customized their own Wrangler. Jeep owners love their Wranglers, but appreciate the time and attention that others have put into individualizing their rides.
Become a Part of the Culture
So there you have it. These are the main reasons Jeep culture is so strong, and hopefully you do understand "why it's a Jeep thing". If you have a love of adventure, a Wrangler just might be the perfect vehicle for you. Why not check out our full inventory of Wranglers for sale right now? When you see one you like, stop by for a test drive at 510 S Barron Street in Eaton. We'd be happy to show you why Jeep Wrangler owners are so loyal and in love with their rides.