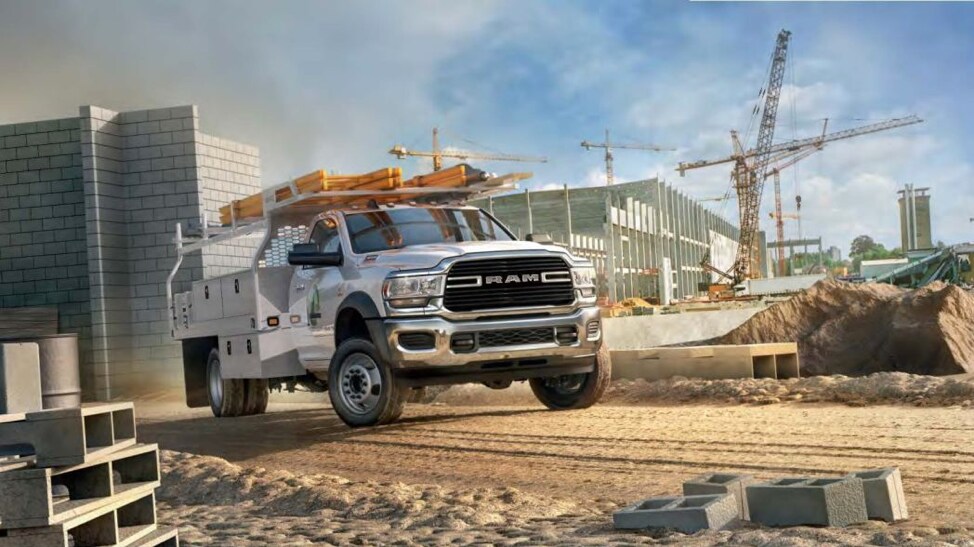 2019 Ram HD Chassis Cab - Image Credit: FCA


FCA's truck division introduced the 2019 Ram 1500 in January of 2018 to much fanfare. Critics lauded the Ram 1500 for its updated looks and solid performance. At the 2019 Detroit Auto Show, FCA unveiled the new Ram Heavy Duty 4500 and 5500 chassis cab models.

Similarities between the 1500, 2500, 3500 and chassis cab trucks are undeniable. For example, the cabs all now feature the updated front fascia as well as the well-appointed interior and cabin. Even the base model Tradesman gets the benefit of the modern design and packaging.
Creature comforts such as the 12-inch infotainment screen provides easy controls and entertainment options for all. However, since trucks are meant to work, owners are more likely to appreciate the safety tech features like adaptive cruise control, forward collision warning and automatic emergency braking (with trailer brakes). Other available options include parking assist and a 270-degree camera view. Hooking up your trailer is no longer such a pain in the neck as the camera boasts features to help hook up and align trailers, including goosenecks!


The 3500 Chassis Cab is a class 3 GVW rating, and similarly the 4500 is a class 4, and the 500 is a class 5. In these classes, you'll need a strong engine and the Ram delivers with the standard engine being a 6.4-liter Hemi V8 making 410 horsepower and 429 pound-feet of torque in the 3500. The 4500 and 5500 models feature 370 horsepower. Because fuel economy is important to everyone's bottom line, the Ram 3500 features cylinder deactivation which can increase MPG ratings. For those who prefer diesels, all 3 models can be purchased with a 6.7-liter Cummins turbo-diesel inline-six. The Cummins produces 360 horsepower with an incredible 800 pound-feet of torque paired with an Aisin six-speed automatic (which is also available on gasoline engine models).


The Rams are innovative but have maintained industry standards where they're important. For example, the trucks are available in the industry standard frame lengths of 60, 84, 108 and 120. Everyone who is a professional driver knows that especially in trucks, you have to have the "whoa" power to match the "go" power. With upgraded brakes, stopping distances are shortened from the previous model year, and boast an improved pedal feel. Helping to increase the stopping power is the fact that the 2019 trucks weigh 120 lbs less than the 2018 models thanks to the use of high-strength steel and aluminum.


With the updated looks, improved performance and added technology features, the Ram Chassis Cab is a legend in the making. When you're ready to own a truck to help you tackle the toughest tasks, contact the Ram Truck specialists at SVG Chrysler Dodge Jeep Ram in Eaton or Greenville. They'll work with you to find the exact truck to fit your needs.