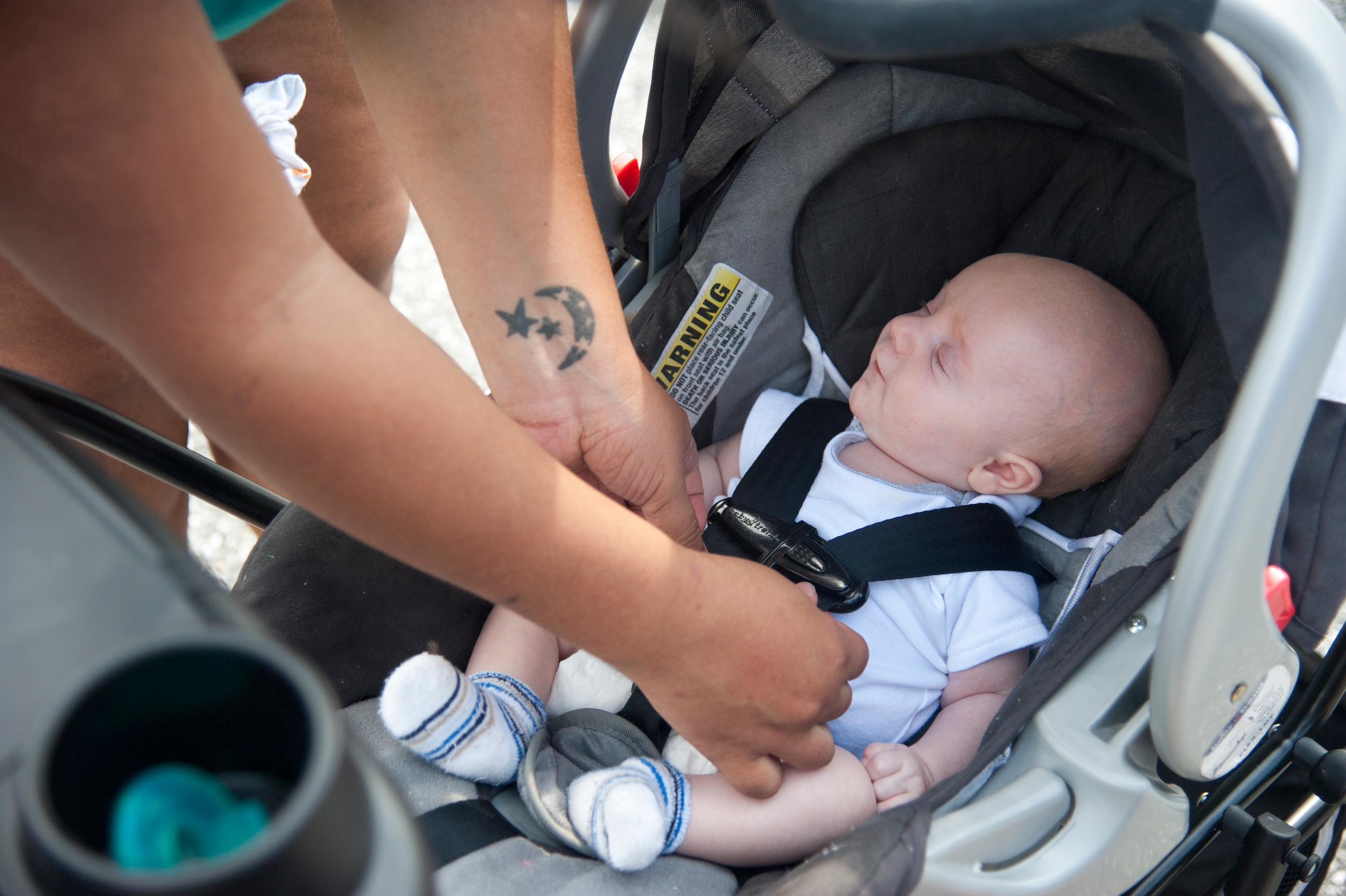 If you're a first time parent, it's likely that you feel a bit overwhelmed and maybe even a bit panicked about the thought of transporting your new little one around in your vehicle. The truth is, yes, you should be concerned about your child's safety at all times, especially in vehicles. However, don't let that concern turn into irrational fears. Here we offer some tips from been-there-done-that parents to make traveling with baby a bit easier on you, baby, and your vehicle.
1.) If you value the cleanliness of your vehicle's interior, put a piece of plastic on your seat where baby's carseat will be installed. Put an old towel or blanket over that plastic. Next, secure the carseat onto the seat using the manufacturer's instructions for that specific model of carseat. Don't be too proud to read the directions that came with the seat; your child's life depends on the proper installation of their carseat. By using plastic and a towel under their seat, your upholstery will not bear the brunt of spilled bottles, cereal, snacks, juice or whatever other gooey, liquid-y, messy stuff happens to fall into the abyss under the seat.

2.) Check the fit of your baby's carseat weekly. If there's wiggle room, the seat or belt system doesn't fit properly. Babies grow so quickly that it's super important to check the fit of their seat often to ensure their safety.
3.) Newer carseats have a seat/carrier and a base. It's hard to remember which latches release which parts. Buy a pack of neon-colored stickers at the dollar store and write on them which latch does what and stick them in the appropriate place. This is very helpful for sitters, grandparents or any other care-givers who might travel with baby who aren't as familiar with baby's carseat as you will be. If you remove the base or carrier, always double check all latches to ensure they are properly connected.
4.) The safest place for baby is always in the center of the back seat. Because baby will be out of your reach as the driver, place a pacifier clip on your baby's car seat. If the baby drops their pacifier, if should be fairly easy to reach back and put the pacifier back in their mouth.
5.) If baby enjoys toys, put a container of them within your reach. That way if baby drops one, you can reach back and hand them a new one.
Above all, always follow the recommended federal guidelines on which type of carseat to use for your child as they reach different development levels.

It's also a good idea to search for vehicles that have excellent safety and crash test ratings along with the features that will be truly helpful to new parents. Things like auto-opening sliding doors are great for when you have a car seat in one hand and a diaper bag in the other. In an article written by Jennifer Geiger that appears on Cars.com, she polled her editor colleagues to find out which cars they felt were the best for first-time parents. Mike Hanley, Senior Research Editor at Cars.com chose the Chrysler Pacifica. Mike says, "Even though first-time parents would have way more room than they'd need (unless they had triplets or quadruplets), a minivan like our Best of 2017-winner Chrysler Pacifica still makes a lot of sense. Power-sliding side doors are helpful when your hands are full of baby gear, and the sliding doors and taller ride height make it easier to use child-safety seats than in a lower-riding car. Plus, minivans have a lot of room for bulky strollers and all the other things that go along with kids."
In addition to having those awesome sliding doors, choosing a Pacifica before you need the extra room means when baby #2 (or #3) comes along, you won't have to sell what you have to get something bigger.
However, Geiger's colleague, "JN" felt that new parents don't have to give up the "cool factor" to have a versatile, baby-friendly vehicle. JN states, "Becoming a parent doesn't mean you have to give up the cool car. The Jeep Grand Cherokee allows you to hold onto your inner child thanks to its plentiful trim levels. Want to go fast? Get the Grand Cherokee SRT with its 475-horsepower, 6.4-liter Hemi V-8 and make grocery trip runs something you want to do. Want to go even faster? There's the Grand Cherokee Trackhawk with its 707-hp, supercharged 6.2-liter V-8 — though this might be a tough sell to the more responsible spouse. For those who'd rather experience the great outdoors with a little one in tow, there's the Grand Cherokee Trailhawk with full-time all-wheel drive, an adjustable air suspension and more. Oh, and the Grand Cherokee fits three car seats across its backseat — just in case you need room for more kiddos in the future."

Ultimately, the best thing you can do for your new baby is to love them! It doesn't hurt to love the vehicle you carry them in, either. If you feel like your baby deserves a better vehicle to ride in, stop in or call SVG Chrysler Dodge Jeep Ram at 937-548-7643 and let our friendly, extremely helpful sales professionals help you find just the right vehicle for your growing family.