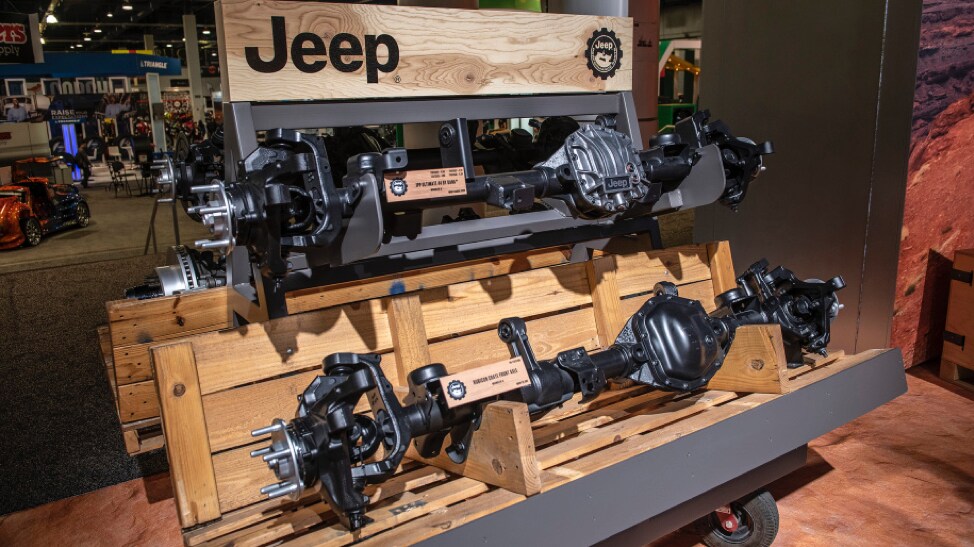 Image Credit: Drew Phillips
The Jeep brand boasts some of the most loyal customers of any brand, and for good reason. The Jeep Wrangler is an iconic vehicle that could arguably be called the world's first Sport Utility Vehicle.
One of the reasons that Jeeps are so popular is that they can easily be customized to suit a wide variety of needs and wants. Mopar offers a full line of accessories for Jeeps to help meet the demand. Mopar recently revealed their latest accessory for the Jeep at the 2018 SEMA show.
Mopar unveiled Jeep Performance Parts axles at the SEMA show as their latest Jeep accessory. In a partnership with Dana, Mopar developed the axles to allow for a huge variety of gearing ranges for off-roading and trail riding. The axles have a co-branded name – JPP Ultimate Dana 44 AdvanTEK.

The axles are made in the U.S. and boast new gear technology to reduce gear set packaging. This provides extra strength and durability for those rugged off-road rides. In addition to the extra strength, the axles have a high-clearance carrier design giving owners an extra half-inch of ground clearance. The range of gears available include 4.56, 4.88, 5.13, and 5.38 which naturally accommodates for a bigger variety of tire sizes. With axle shafts made of chromoly, and quarter-inch steel bracket mounts, 9.5 millimeter tubes and upgraded U-joints, these axles were built to meet the demands of rigorous off-roading. Adding to the axle's stability and durability are a nodular and ribbed iron differential.
The axles are directly compatible with OEM parts. They include electronic differential lockers pre-installed.

Want to be a part of the Jeep family? SVG Chrysler Dodge Jeep Ram in Eaton has a great selection of Jeeps available today. If you're already a Jeep owner and want more information on these axles, please feel free to stop in to our Parts and Service department to learn more. The qualified technicians at SVG CDJR would be happy to order and install a set of these axles in your ride!