The supercharged 426 Hemi boasts 1000 horsepower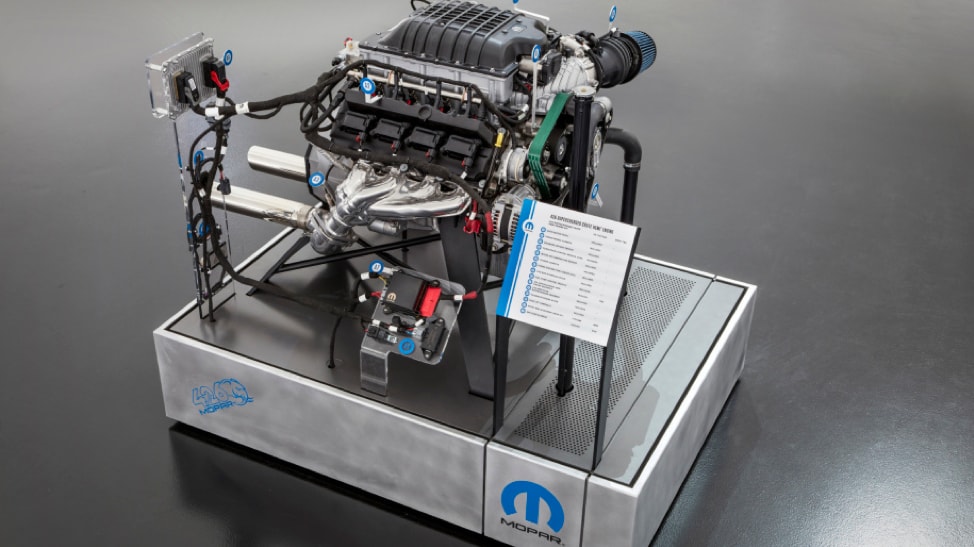 Image Credit: Mopar
Mopar's new crate engine found its name through a combination of the nickname for the 426ci Hemi V8 and the Hellcat. Featuring 1000 horsepower ad 950 pound-feet of torque, the Hellephant is a 426ci aluminum block topped with a supercharger.
The use of an aluminum block verses iron saves 100 pounds. The crank and other interals are all forged. With a bigger bore and longer stroke, this 426ci pumps out more power than the Demon motor. A 3 liter supercharger provides 15 pounds of boost yet the motor will still peg a tach at 7000 rpm.
Mopar is offering an installation kit to pave the road for a smooth project. It provides an engine computer module, wiring harness, and drive-by-wire throttle.
Surprisingly, the Hellephant is boasting 1000 hp on 93 octane gas. What makes this surprising is that the Demon engine requires racing gas (100+ octane) to produce 840 hp. Mopar has hinted that more horses can be squeezed out of the Hellephant with racing gas use.
While pricing is not yet available, it's likely that the Hellephant's cost will be higher than that of the Hellcat. If purchasing directly from Mopar, the Hellcat crate motor is $19,350, so expect to see a cost increase over this price for the Hellephant. Based on existing pricing for the installation kit for the Hellcat, expect the Hellephant's install kit to top $2,000.
Look for the Hellephant to be available in the first quarter of 2019. If you're in need of horsepower right now though, check out our inventory of asphalt-eaters at SVG Chrysler Dodge Jeep Ram in Eaton.